Darkest Hour : an unmissable film!
3rd January 2018 @ 6:10 am

-

20th February 2018 @ 8:15 pm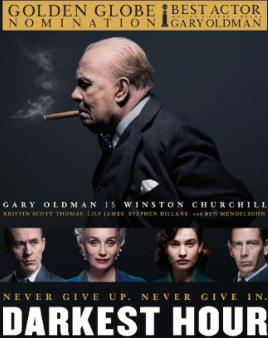 Darkest Hour – Churchill, Dunkirk, Gary Oldman… Superbly acted cinema.
Gary Oldman is Winston Churchill in this thrilling drama by Joe Wright ("Atonement").
Prime Minister Winston Churchill is only a few days in office when he has to decide whether he should sign a peace treaty with Nazi Germany or defend the principles Great Britain stands for.
Oldman is unrecognisable as he becomes Churchill at one of the most difficult junctures in his political career.
His position as Prime Minister is precarious, with opponents poised to take over if and when he falters, and the terrible crisis of Dunkirk (May/June 1940) is looming, with hundreds of thousands of Allied men trapped on the beaches there.
The film is a detailed account of the moments ticking away up to Churchill's decision for salvaging the situation, his crafty leadership and the strong sense of unity in the English character. It is superb, and Oldman may walk away with an Oscar for this role.
AGE RESTRICTION:

LEGAL AGE 12/14 YEARS
RUNNING TIME:

125
MINUTES
DIRECTOR:

JOE WRIGHT
CAST:

ANNARIE BOOR
BEN MENDELSOHN
BRIAN PETTIFER
CHARLEY PALMER MERKELL
CLIVE AITKINS
DANNY STEWART
DAVID OLAWALE AYINDE
GARY OLDMAN
HANNAH STEELE
HILTON MCRAE
JEREMY CHILD
JORDAN WALLER
KEITH LOMAS
KRISTIN SCOTT THOMAS
GENRE:

DRAMA
RELEASE DATE

03 JANUARY 2018
CHECK THE PROGRAM!